Womb of Life- Total rebirth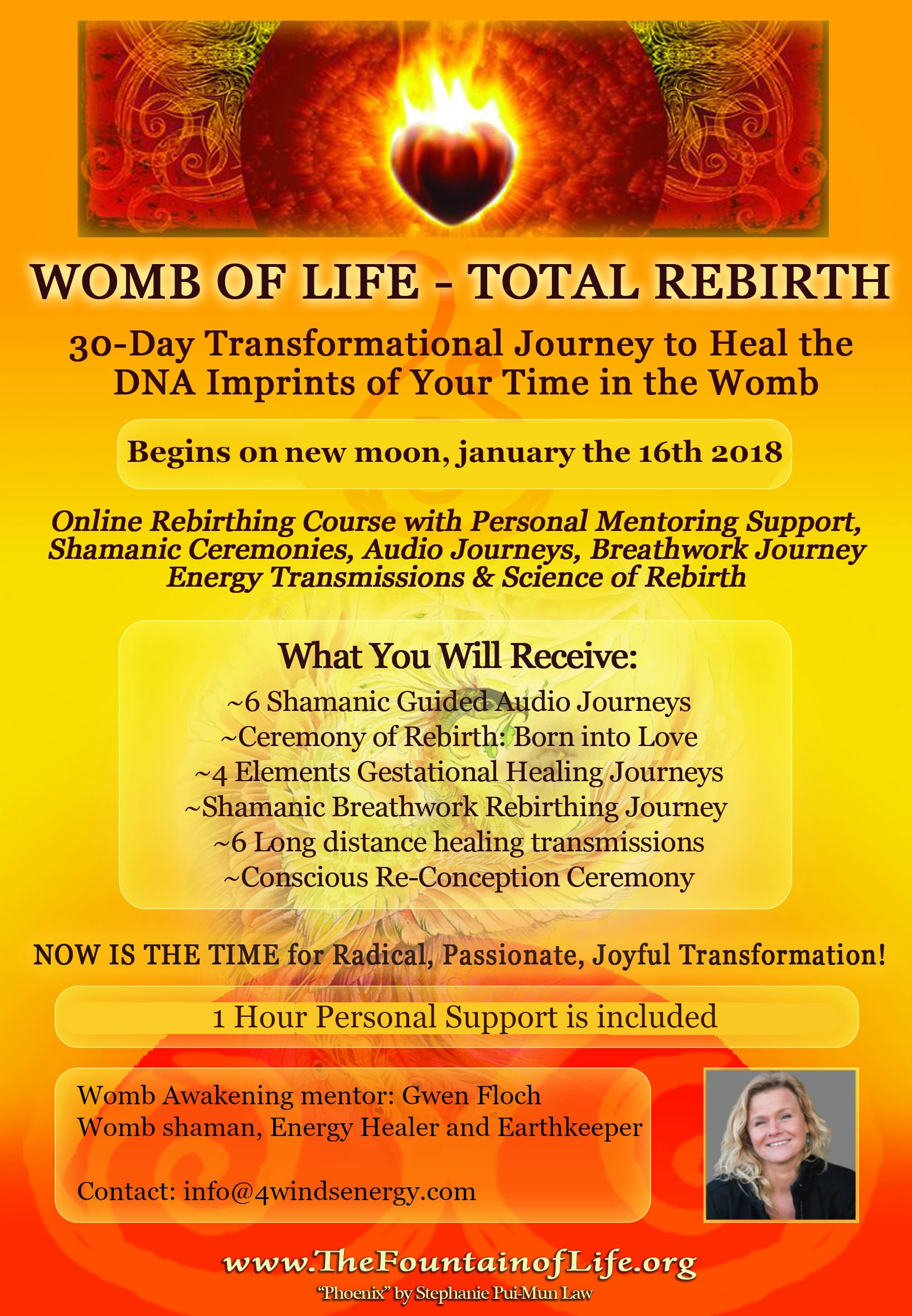 Total rebirth online course with The Fountain of Life
This powerful transformative 30-day journey takes you back into the cauldron of your conception and your gestation in your mother's Womb – to heal any negative epigenetic imprints you received during this time.
Scientific research reveals startling evidence that many of our behavioural patterns, health issues and psychological fragmentation is imprinted during our time in the Womb – literally written into our genetics and neural pathways.

By revisiting this time and releasing these imprints, we can rewire our DNA and psyche for a life of love and vitality.
All shamanic traditions speak of this great rebirth – of returning to the Womb to be born again.
During your 30-day journey, not only will you heal Ancestral and personal wounding from your conception, gestation and birth – you will also enter the Shamanic Otherworld of the Great Womb to claim the gifts of love and wisdom that are waiting to be remembered and embodied, as well as communing with the Web of Life.
Now is the time to reclaim our legacy of love by healing our ancestral trauma. Due to at least 5,000 years of patriarchy, and 40,000 years of attack against the Feminine Wisdom, both men and women have been (epi)genetically modified to disconnect from our original blueprint lived in Love by our Ancient Mothers & Fathers. These genetic memories of both Love and pain live on inside us – waiting for us to choose the path we wish to live by and how we wish the world to be.
When we have the courage to choose our genetic inheritance of Love, and dissolve all that is not love, we become Mothers and Father of New Earth.
Within our genetic treasure chest lives vast spiritual and biological potentials that remain dormant – but we have the power to reawaken and reclaim these incredible potentials and become Chalices of Living Light.
Revisiting the cauldron of our mother's Womb, where our receptive capacity was formed, is a huge key to this genetic awakening and healing.
"When we have the courage to choose our genetic inheritance of Love, and dissolve all that is not love, we become Mothers and Fathers of New Earth."
During this transformative, feminine process you will experience the following Ceremonies and practices that are designed to take you deep into the subconscious, DNA and cerebellum, where the memories and traumas of your conception and birth still live on, unconsciously shaping your life.
Scientific research now shows that who we are on all levels – biologically, emotionally and psycho-spiritually – is fundamentally determined by our experiences in the Womb. The frequencies of feelings and beliefs that permeate us during our gestation in the Womb genetically program us for a life of love, bliss, communion and pleasure; or a life in which we are wired for anxiety, trauma and suffering. Our mother's Womb is the cradle of our existence."
Womb of Life: Total Rebirth online course begins on January 16th, 2018
What you will receive:
6 deep Shamanic Ceremonies with guided audio journeys
6 Long-Distance Energy Healing Transmissions
Shamanic breathwork video instructions
Conscious Re-Conception Ceremony: Spirit into Matter, Shamanic Audio Journey and Energy Transmission
Womb Elements Gestation Healing; Shamanic Audio Journeying through Womb Air, Womb Water, Womb Fire and Womb Earth and Energy Transmission
Ceremony of Rebirth: Born into Love; Shamanic Audio Journey and Breathwork Journey of Rebirth
1 hour Personal support from your Fountain of Life Womb Awakening Mentor
Online facebook Womb Circle forum to share your healing journey and be inspired by others
Shamanic Crafting to support your healing journey
Feminine Dimension Mapping of your Mother's Womb
Original writings on the leading-edge research of how to heal the imprints of your ancestral lineage, reactivate your genetic blueprint, and reclaim your capacity to be an embodied Chalice of Living Light
Receive instructions on Fountain of Life breathing practices to move, circulate and release anger into pure Shakti (life force energy)
The Womb of Life Total Rebirth is available as a private online course that can be taken at any time with a personal Womb Shaman mentor of your choosing. Your mentor will provide a 1-hour skype/ phone mentoring session and practical support for your 30-day journey. When you take the Private Course, energy transmissions are interwoven into the audio recordings that you receive, and your primary support will come through the private mentoring session. Note: The mentoring session is optional – it is also possible to take the journey without a mentor. Click the "Register Now" link below to sign up, or Contact us for more information.
"I will be available to mentor from the 16th  of january 2018.
This  journey  is one of my favourite ones  that I have taken many times and I will be honoured to take you by the hand as you rebirth yourself"